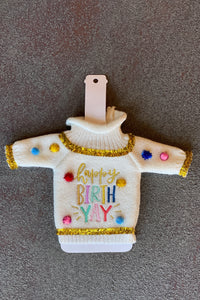 soiree-sisters
Wine Bottle Sweater | Happy BirthYay
Regular price
$15.00
$0.00
Happy BirthYay Soiree Sisters Sip Sip Happy BirthYAY Wine Bottle Sweater- Great Birthday Party Favor and Gift Cover for Wine Bottles - Birthday Party Decorations Supplies Gift Packaging Suitable for packaging wine bottles, perfect for a gift, and glass bottle packaging for parties and festivals.
You have found the most elegant gift for any age birthday.
Every time they drink their precious wine they will think of you.
Dimensions: Fits All Standard Size Bottles 1 - Bottle Sweater
---
Share this Product